Conditions for taking back empty cartridges
Our collection service aims to put back into circulation as many empty cartridges as possible in order to give them a second life!
Tips for the proper return of your empty cartridges
We take back inkjet and laser cartridges, we do not take back copiers' cans and other waste.
As with the sorting of household waste, there are a few rules to follow for the proper return and efficient treatment of your empty cartridges.
Protect used cartridges
Remember to protect the used cartridges by placing them correctly in the box.
Objective :
Avoid breakage
Avoid dispersion of ink and toner powder in the carton.
Facilitating the work of sorting operators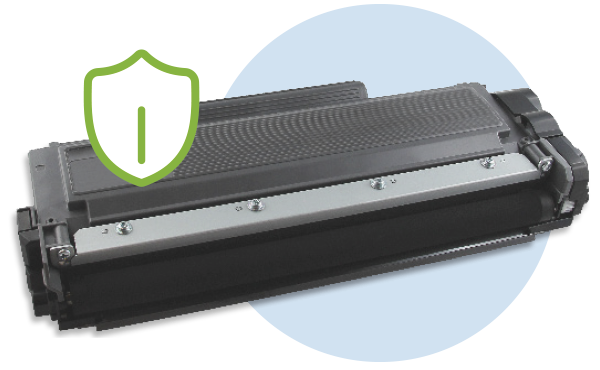 Fill out the collection boxes correctly
A collection box is considered to be full when it contains between 15 and 20 laser cartridges or a hundred or so inkjet cartridges, for a maximum weight of 20Kg.
A well-filled box, without overloading it and without it being underfilled, allows :
Optimise transport
Limiting CO2 emissions
Limit the weight of the box to 20kg
The cartons must be closed securely to avoid inconvenience during handling and transport.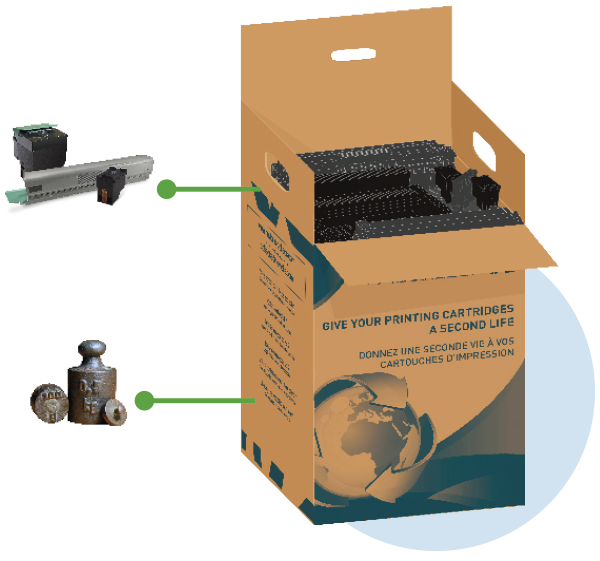 Take-back of Revialis boxes only
If you started your collection with your own cardboard box, simply transfer it into the box we deliver.
Remember to have your boxes or pallets available, grouped together in the same place (reception or reception area) to make collection easier for the carrier.
The carrier is not authorised to go upstairs.
Transport documents and chartering
Associated with your request for collection, we may ask you to fill in the various documents below:
The packing file: The packing file is a document provided by us that we ask you to fill in for collection requests from 3 or more pallets. It allows us to list the number of pallets, the weight and dimensions of the pallets in order to send them to the appropriate carrier for collection.
Annex VII (also known as 14133 01 cerfa): The import, export and transit of waste are subject to the provisions of Regulation (EC) No 1013/2006 of the European Parliament. This regulation states that all waste is subject to the notification and declaration procedure if the quantity of waste shipped exceeds 20 kilograms. Annex VII contains full information on the waste generator, the site of destination for treatment or recovery, the actual weight of the waste (in tonnes), the transport stream, the waste identification codes and the type of treatment. It is a customs document required by the control authorities of any EU country. When this document is required, we will fill it out for you and send it to you by e-mail. All you have to do is sign it and pass it on to the carrier at the time of collection.
The Proforma Invoice: the proforma invoice only concerns countries outside the European Union (Large Export). It is necessary for us to be able to import waste within the European Union.
Request a removal